Updated post with any data available on the UK footfall recovery. If you would like to submit an update to us, please feel free to contact us and we will update.
December 18th – Online sales data as a % of retail – November data released.
Quite a dramatic change, in light of lockdowns and ramping up of the tiering system. Online retail sales as a % of retail sales has increased to 36%.
December 17th – Impact of regional restrictions in overall UK footfall
It's been some time since we updated foot fall figures, which gives some wider angle data available to examine. In spite of a recovery in footfall, national restrictions produced a large hit on footfall – in spite of non-essential retail remaining open. Footfall plunged to below 50% nationally. Once restrictions were lifted on a regional level, recovery has been marked.
October 29th – local covid-19 restrictions impacting national averages
Overall footfall is now clearly on a downward trajectory, however the decline is not yet sharp. Local restrictions are pulling the average down, impacting retail on a regional basis.
The regional picture is most clear with the lockdown in Wales showing the sharpest decline in retail footfall. Restrictions in Scotland and Northern Ireland are also discernible. Growth in footfall in the south is counteracting the national average.
9th October – Regional changes in footfall
We have added an enlarged image of regional footfall, published by the ONS on the 8th of October. Spikes in Covid 19 infections are evident in the North of England and Scotland. Regional footfall is slipping behind the national average in the East, North & Yorkshire, Scotland and Wales.
As rumours spread about government plans for more restrictions, the question will be how much will footfall change on a regional basis and to what extent it will reflect the declines seen in March.
5th October – Footfall in clear decline
With enough data available on the decline post restrictions coming in, namely the 10pm curfew – footfall is clearly in decline. Footfall is now below 70% of its level in 2019 and the decline is most prominent in the high street and shopping centres.
22nd September – New Restrictions likely to have an impact on Footfall
The Government has just announced new social distancine restrictions in light of the growing infection rate. Many of them will have an indirect impact on footfall. These includes the request for people to work from home wherever possible. The restriction of travel to work will impact foot traffic.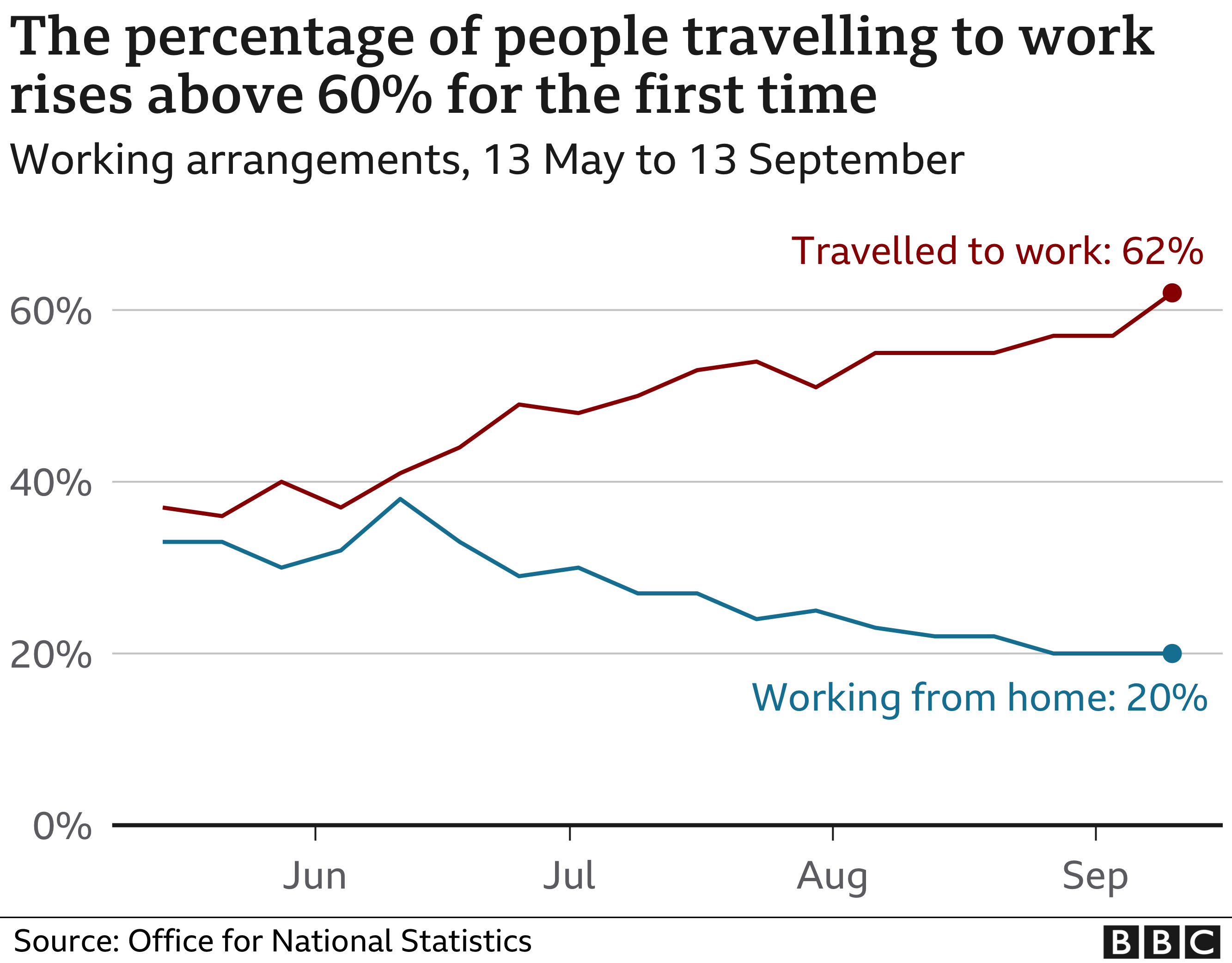 Thankfully, there are no restrictions yet on closing down retail.
13th September – Growth in footfall stalling
Growth in Footfall has now plateaued across all main categories (Retail parks, Shopping centres and the high Street).
28th August – Growth Trend Emerging
The most recent update from the ONS has footfall on a steady upward trend, now hovering at approximately 70% of year on year. Retail parks are driving a good portion of that change, with a now consistent 80% of previous years' foot traffic. Shopping centres have also overtaken the high street.
11th August – limited change
Some up-to-date data from Springboard has shown that over the last week, footfall remains around 30% down year on year. There have been expectations for the eat out to help out scheme would have a positive impact, however it remains to be see if this is a game changer. It may take some time for this impact to be seen.
29th July – data by city
Interesting article linking footfall with mandatory requirements for masks is worth a read by big hospitality. Safety was written up as one of the key reasons for shoppers to stay away from stores, so we would expect as mask wearing normalises – there may be a correlation with growth.
26th July footfall recovery update:
The next release of footfall figures up to the 26th of July have not shown a considerable increase. The ONS have described the change as a moderate increase, however there is a clear plateau:
The high street apppears to have had the largest change in the last week, starting to match shopping centre traffic.
19th July footfall recovery update:
The ONS has released UK footfall figures up to the 19th of July, which reflects the first weeks of retail reopening.
The figures are compared year on year so you can get a clear indication of the impact of Lockdown, social distancing and the reopening of retail.
The figures show that footfall is now down 40% year on year now that retail stores have reopened. Remarkably, this is an improvement from its previous low of 80% down year on year. The big positive is that it is recovering, but the question is, how long will this take?
The detail is interesting: High street, retail parks and shopping centres are all recovering at different rates, with retail parks demonstrating the strongest footfall recovery, showing 20% year on year decline. Retail parks have fared the best out of the three formats, potentially because of the opportunity to socially distanced in a retail park.